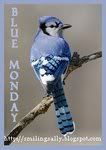 My three boys love the blue, they have clothes and other stuff which are blue. In fact, when we were choosing our house color, in unison they answered "Blue!"
Of course, their messy bedroom uses blue bed covers and electric fan. Even their curtains are blue, too bad I have no picture available.
Their love for blue is also apparent on the clothes that they wear. Most of their shirts are in the shade of blue.
Hope you enjoyed my share for Blue Monday and have a great week ahead :)